We are HM Car and Boat Detailing.
We have been building our business around the customers we have had for nearly a decade.
HM Car and Boat Detailing is transforming the detailing industry. With 8 years creating invaluable relationships in the Hamptons, and years more working in the industry, our work spans over a decade. 
We got started in 2012, after our founder, Harold Marin, spent years detailing cars and managing a marina. Surrounded by the tiny everyday details of refinishing high-end vehicles and boats, he wanted to truly immerse himself in the work. Harold opened HM when he realized he wanted to be doing what he was passionate about every single day. 
We are committed to two things: our customers and our demand for the very best finish. We fulfill these promises by treating our customers with the highest respect from the very first conversation and continuing our world-class customer service for years to come. No one has the relationships that we have with our clients. We commit to providing the very best finish on the market by studying, learning new tools and techniques, applying the very best machinery and devices to each project, and adapting the best products to our work. 
We commit every day to cutting-edge technology and ideas and individualized customer service. 
We love what we do, the people we work with and the customers we aim to transform the lives of. Your boats, yachts, cars, trucks and motorcycles can all look better than the day you brought them home. Our work is transformative, from the way we care about our customers to the standards we expect with each new project.
Our Vision
To transform customer service in the detailing industry by providing our customers with the very best boat and car detailing experience.
Our Mission
To always deliver the best finish with unmatched preservation, quality and shine. 
Our Values
Passion for perfection
Commitment to our customers
Personalized approach to each car or boat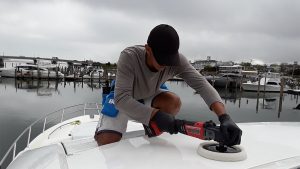 Trust
Transform
Thrive